Please greet Happy Name Day to Michaela!
What is a name day? It is a great tradition in the Czech Republic as well as in many other European countries. If you open Czech calendar, you will see that every day of the year is someone's name day. It is a great thing because in one year you have the right to celebrate twice – your birthday and your name day!
In short, it's an age-old European custom in which those with the same first name have one day a year assigned as their name day. People celebrate it in the same manner as birthdays. All the namesakes receive congratulations and gifts from their family, friends but also colleagues since everybody knows it is your name day today. In effect, it is like having a second birthday, but better! Why?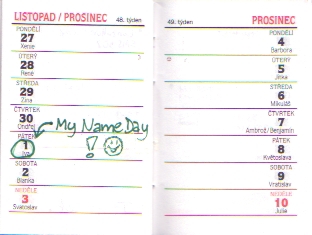 The bad thing about birthday is that not everybody knows it's your birthday. This can't happen with your name day! In the Czech Republic you can hear on the radios: "Congratulations to all Michals today! If you know any Michal, don't forget to wish him happy name day today!" Not only is it written in all calendars, it will be reminded to you in newspapers as well. Your friends can therefore never forget your name day!
____________________________________
WOD:
"Bulger"
Ten rounds for time of:
Run 150 meters
7 Chest to bar pull-ups
135 pound Front squat, 7 reps
7 Handstand push-ups
Kevin Montoya 18:20, Heather Bergeron 19:23, Michael Giardina 19:54,
Kim Malz 29:16 (95lbs).
Post time to comments.
Canadian Forces Corporal Nicholas Bulger, 30, of Peterborough, Ontario, assigned to the 3rd Battalion of Princess Patricia's Canadian Light Infantry, based out of Edmonton, Alberta, died July 3, 2009 while on patrol in the Zhari district of Afghanistan when an improvised explosive device exploded near his vehicle. Cpl. Bulger is survived by his wife Rebeka, and daughters Brookelynn and Elizabeth.